Escaped from East Germany: An Amazing Eyewitness Report
Holger Timmreck grew up in a small village close to Dresden in the German Democratic Republic, also known as communist East Germany.
As a child, Holger found out his father was a prisoner in a Stasi prison because of political views.
As a consequence, Holger was not allowed to study. He was not considered a good fit for socialism.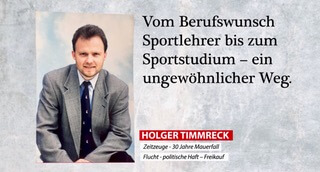 Meet Holger in California, USA
and learn about the latest and most uniqye developments for German Tourism.
6.00pm- 9.00pm
San Francisco: February 17
San Jose, CA: February 18
Los Angeles, CA: February 19
Orange County, CA: February 20
San Diego, CA: February 21
In 1980 Holger tried to escape to Austria and was arrested at the border and spent 18 months in a high-security prison before he was bought out by the Federal Republic of Germany (West Germany) in 1982.
A new life began and Holger will explain all the details.
Meet Holger, learn about his fascinating history. Also, meet the person who helped him to escape communism and ask questions.
At the same time learn about today's Germany, and learn about some unique opportunities to experience Germany.