Staying in a Fish tank when visiting Berlin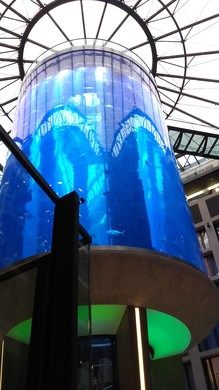 Why not stay in a fishtank when visiting Berlin. At the Radisson Blue Hotel you kind of feel like it.
Touted as the largest cylindrical fish tank in the world — 25 meters high and 12 meters in diameter — the Aquadom is a sight to behold.
It contains over one million liters of water, a coral reef, and is home to nearly 2,600 fish from 56 different species.
A tank of this caliber cannot be simply viewed from the ground, and with the ingenuity and decadence the Radisson Blu hotels pride themselves in, they've solved this problem in a grand way. An elevator takes guests up through the inside of the tank for a full 360-degree view of the fish as well as the divers who care for them and the tank on a daily basis.
The AquaDom was built by the Union Investment Real Estate GmbH at a cost of 13 million Euro for the aquarium alone. Biological management lies with the Berlin Society for Large Aquariums.
The AquaDom is maintained by the Sea Life Berlin, which is located right next to the hotel. Visitors to both the hotel and Sea Life Berlin can take a breathtaking ride in this one-of-a-kind sea life habitat.
The hotel is located in the center of Berlin at Karl-Liebknecht-Strasse 3, Berlin, 10178
More information: https://www.radissonhotels.com/en-us/hotels/radisson-blu-berlin