Green Conventions are a reality at darmstadtium
The darmstadtium has also been impressing international event planners for some time now as an alternative to the "European Convention Center Luxembourg", the "Convention Centre Dublin" and other major venues.
One of the main criteria is the infrastructure – because the darmstadtium combines an attractive location right in the centre of the Rhine-Main Region with excellent IT infrastructure, reflected in its motto: "well connected".
Superior accessibility, attractive location
The darmstadtium is conveniently located in the Frankfurt/Rhine-Main metropolitan region with direct access to the A5 and A67 motorways. The darmstadtium can be reached from Frankfurt am Main international airport by car in around 20 minutes. The AirLiner, an express bus service, offers a direct connection between Frankfurt Airport and Darmstadt. The service stops at Terminal 1, Gate 3 as well as Terminal 2 of Frankfurt Airport. The AirLiner takes passengers directly to the darmstadtium (stop "Kongresszentrum Darmstadt"). 30 runs a day are scheduled at close intervals.
Public transport from Darmstadt central railway station to the conference centre is direct and takes less than 10 minutes.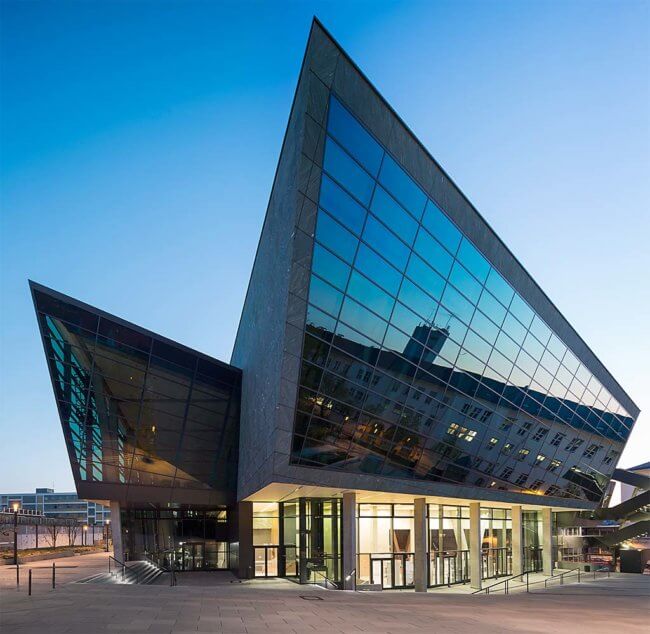 Unique in Germany: information technology at the darmstadtium
The latest Wi-Fi standard (ac), a fast internet connection (up to 10 GB/s), extreme reliability and the provision of individual customer networks (VLAN technology) – with our digital infrastructure, we fulfil the most demanding requirements regarding network technology and connectivity.
For its first-class digital infrastructure and continuous improvement, the darmstadtium received the INCON Digital Infrastructure Award 2014. Melbourne and Amsterdam had to make do with 2nd and 3rd place, respectively.
The Darmstadt Convention Center is certified by Green Globe.
For more information about the Darmstadtium click here